WALKING & CYCLING
There are some great walks and cycling in County Louth, Meath and County Down. We are keen walkers and are happy to supply you with maps and details of all of the walks listed and many more.
Local Walks
Dromiskin Heritage Trail The local area offers a short walk around Dromiskin on the Dromiskin Heritage Trail. The trail begins in the old graveyard near to the Celtic High Cross and Round Tower and continues around the village passing the old school and chapel. Time: 1 hour
Annagassan From the port in Annagassan you can walk along the coast for several miles stopping on the way back for refreshment in the Glyde inn. Time: 1 hour
Clogherhead to Port Oriel This is a interesting walk from Clogherhead beach to the Port, there are several informal paths around the coastline to the Port where there are often Grey Seals in the harbour. Time: 1 to 2 hours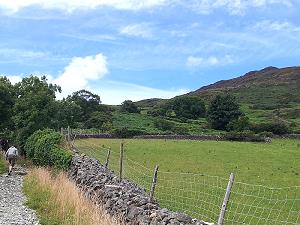 Carlingford and Cooley
There is something for everyone in Carlingford from day long hikes to more easy to manage looped walks. Here are a few examples:
Barnavave Loop Barnavave is an outstanding view point with an abandoned village on the descent. Time : 4 hours
King John's Castle walk Short walk around the village. Time: 1 hour
Slieve Foye National Loop Walk takes you up to the mountain slopes on good paths. Time 2 to 3 hours
Tain Way This 40 km walk starts in Carlingford and ends in Carlingford. Time : 2 days
The Boyne Valley
The beautiful Boyne Valley has some stunning scenery along the river banks of the Boyne.
There is very pretty walk along the river, the Boyne Ramparts Heritage Walk, Time: 2 hours



Northern Ireland County Down and The Mourne Mountains
There are many wonderful places to walk in Northern Ireland and the Mourne Mountains. The Mourne Mountains are a designated area of natural beauty. Slieve Gullion Forest Park is situated near to the town of Newry, 2500 acres of countryside offering some magnificent views of the surrounding area and numerous walks. There is a very nice café in the courtyard serving great coffee and cake.
Here are some of the National Parks in the Mourne mountains where there are some great walks:
Castlewellan Forest Park: Well marked trails around the lake and forest plus a fascinating arboretum.
Kilbroney Park: 97 acres of forest with well marked trails for walking and mountain biking. There is a café for lunch and refreshments.
Silent Valley: The Silent Valley Reservoir was built to supply water to County Down and Belfast, there is a walk along the valley beside the reservoir.

Cycling
Cycling is a very popular pastime in County Louth with numerous cycling road races taking place through the warmer months. For off road cycling there are many parks, forests and trails. The Forest Parks listed in the Walking section are all perfect for cycling as all of them have cycling trails for all abilities and most of them have bike hire available. Carlingford has several bike hire shops as there are good cycling trails around the area.

More to do
Adventure activities | Beaches and Coastline | Family Fun | Great nights out | History and Heritage | Golf