GREAT NIGHTS OUT
There is a good selection of restaurants, pubs, clubs and venues in the area for a great night out; here are a few suggestions:

BLACKROCK This pretty seaside village has a great selection of pubs and restaurants to suit everyone. We have detailed lists of local restaurants and can help with advice, bookings and also travel arrangements.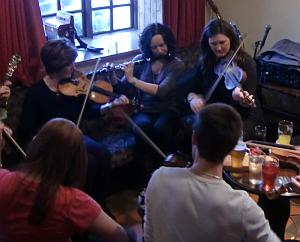 DUNDALK STADIUM Horse and Greyhound Racing, be a spectator or dine in the beautiful glass fronted restaurant with panoramic views of the racing circuit. This stadium is the only stadium in the world to combine Horse and Greyhound racing.

GLYDE INN ANNAGASSAN Family run pub and restaurant with wonderful views of the beach and the Cooley Mountains. We have had great reviews from former guests. Local musicians get together on a Friday night to play traditional music.


DUNDALK
Dundalk has a large selection of pubs with live music, night clubs and restaurants to suit every taste.

MCMANUS PUB DUNDALK This is one of the oldest pubs in Dundalk where the family members of the Corrs used to help out before they became famous as the pub was owned by their aunt. Local musicians gather twice a week for traditional music sessions.

SPIRIT STORE DUNDALK Live music venue and pub, open most evenings with performances from comedians, folk bands, jazz musicians and all sorts of music and entertainment. We can arrange tickets for events.

CARLINGFORD This beautiful medieval village is very popular with local people and tourists for evenings out as there are some excellent restaurants and pubs.

FIZTPATRICKS BAR AND RESTAURANT Award winning restaurant and bar, very attractive building, traditional style and packed full of interesting artefacts and items from a bygone era.

More to do
Adventure activities | Beaches and Coastline | Family Fun | History and Heritage | Walking and Cycling | Golf