Where we are and what to do...
The beautiful Drummeenagh House and Cottages are located just outside Castlebellingham one of the loveliest villages in the area. With the Bellingham Church and wonderful collection of stone houses built in 1827 by the Bellingham family; also in Castlebellingham there are 3 pubs several shops & a thatched Tea House. It's just a 10 minute drive to the seaside village of Blackrock; where there is a great selection of Pubs & Restaurants overlooking the beach with breathtaking views of the Cooley Mountains.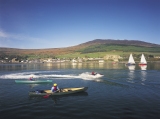 The nearest town is Dundalk, which boasts a large variety of shops, restaurants, nightclubs & leisure facilities. A 30-minute drive to the North brings you to the stunning Cooley Peninsula with majestic mountains rising out of Carlingford Lock.
The medieval town of Carlingford with it's well preserved stock of historic buildings nestles between the mountains & lock. A fabulous selection of restaurants and pubs are dotted around the town.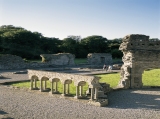 Popular local activities include: swimming, horse riding, angling, sailing and windsurfing. Historic sites to visit in the area include Mellifont Abbey, Monasterboice High Crosses & Round Tower & Knockabbey Castle & Gardens. The location is ideal of golfing breaks with 9 excellent golf courses in the region including the world famous "Baltray" links. [more about the activities in our area...]


The M1 is a short drive from Drummeenagh linking North and South (60 kms south to Dublin, 90kms north to Belfast) [for maps click here...]

The Neighboring county of Meath also has a rich heritage and beautiful scenery, with the Boyne valley and river,the famous Newgrange, Dowth & Knowth Neolithic passage Tombs, the magical Hill of Tara & Kells, origin of the Book of Kells.

Drummeenagh links:
Dundalk Tourist Office, TCCM Office Market Square, Dundalk, County Louth
Tel:+353 (0)42 9352111
www.louthholidays.com