BEACHES AND COASTLINE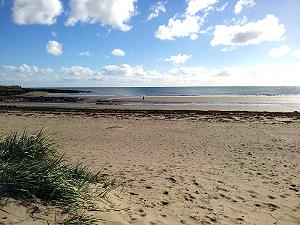 Blackrock (5 minute drive)
Blackrock is a pretty seaside village with a nice sandy beach and promenade. There is great choice of restaurants, cafes and pubs that overlook the beach and promenade.

Annagassan (5 minute drive)
Annagassan is a quiet village with a great pub called the Glyde Inn, there is small port where the Vikings landed and established a settlement. Further along this coast there are small beaches and rocky outcrops with great views across the bay to Cooley and Mourne mountains.


Carlingford and Cooley Peninsula (20 minute drive)
Carlingford is a beautiful medieval village with a lovely harbour nestling between the Cooley Mountains and the Mourne mountains.This a great place for water sports, Sailing, Canoeing and Windsurfing. There are some excellent pubs, restaurants and cafes in the village.

Port and Clogherhead Beach (15 minute drive)
Port is a long sandy beach and great for swimming. Clogherhead is listed as an area of outstanding natural beauty, there is a pretty sandy beach with great rock pools to explore. There are several informal paths over the headland to Port Oriel with wonderful views of the distant mountains. Port Oriel is worth a visit as there are often grey seals in the harbour watching and waiting for the fishing boats.

Bettystown and Laytown (30 to 40 minute drive)
To the south of Drogheda in County Meath there are miles of safe unspoilt sandy beach. From the small village of Bettystown you can walk onto this wonderful long strand. There is good fish and chip shop and Funtasia where there is an indoor play area, arcade and bowling.

Skerries (40 to 50 minute drive)
Great sandy beach and a very pretty harbour, wonderful pubs and restaurants overlooking the sea.

Dollymount Strand (1 hour drive)
Great favourite with Dubliners and just up the road from Howth which is a lovely village with a large fishing port, harbour and Marina.

More to do
Adventure activities | Family Fun | Great nights out | History and Heritage | Walking and Cycling | Golf